Meet Our Board of Directors
Richard Burden – President and Chairman of the Board is an AIRSLA founding member and original Chief Engineer. He has been a broadcast engineer for 70 years and was instrumental in bringing FM Stereo to the public. He is also known as the father of the Travelers' Information Service which provides information to motorists at airports, highways, national parks and communities. He is a fellow in both the Audio Engineering Society and the Society of Broadcast Engineers and was honored by the Audio Engineering Society on its 50th anniversary as one of 25 internationally known engineers who contributed significantly to the science of audio during that period. He was also honored by the Society of Broadcast Engineers over a 55-year period with its Lifetime Achievement Award. He records most of our lectures and special events.
Jessie Wolinsky – our Vice President, is a 28 year old student at CSU Channel Islands pursuing a degree in Child Development. She was diagnosed with Retinitis Pigmentosa at the age of 7, and is passionate about empowering people of the visually impaired community. She began volunteering for the Foundation Fighting Blindness when at the age of 14 and since has raised more than $200,000 for blindness research. She speaks at several of their events in Southern California, and even created a social support group for young visually impaired adults called "Sight Club." "Coming to terms with losing my sight has been a constant struggle, but I've found peace of mind by embracing my condition and inspiring others to do the same. I've learned that you can't always control what happens to you in life, but you can control how you feel about it, and I choose to let my circumstances lift me up instead of bring me down. I am incredibly honored to be the Vice President of AIRSLA, and I can't wait to see what the future holds for this remarkable organization."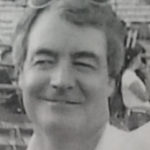 Mike Anderson – our Secretary, received a PharmD degree from USC and completed a pharmacy residency in 1980, then worked in hospital pharmacy for many years. Not knowing anything about handling finances he obtained the CFP designation followed by the RICP to learn about personal finance. Later, he joined a financial planning group part time and eventually full time. In financial planning, disability contracts are a major component of a breadwinner's safety net. Having written such a contract for an optometrist who developed and became totally blind due to retinitis pigmentosa ,they became close friends, and he eventually recruited Mike to be a part of the AIRSLA Board of Directors.
Fred D. Wolinsky – our Treasurer, is a life coach who aids those with diabetes. He earned a BS from Wharton School of Business and an MBA from USC. After 20 years as a CPA, he established a firm specializing in auditing on behalf of recording artists, record producers, songwriters and actors. Fred has been extensively involved in the American Diabetes Association where he has received the National Youth Award. In addition to serving on boards of the American Diabetes Association and Diabetes Research Institute, Fred is involved with the Foundation Fighting Blindness where he has helped organize the Los Angeles Vision Walk.
Dr. Bill Takeshita – is an optometrist who graduated from the Southern California College of Optometry and was the chief of low vision optometry at the Center for the Partially Sighted in Santa Monica, California. He has a special interest in working with children with low vision and he has lectured extensively across the country on the topic of low vision. Dr. Takeshita was forced to retire from practice after he became blind. Today, Dr. Bill is a consultant to the Braille Institute and numerous organizations for the blind.
Christine Chaikin – Is the founder and managing director of Insightful Publications, a company specializing in resource handbooks for the blind and visually impaired. You can connect with Insightful Publications here, or follow its Facebook, Twitter, or Linked In pages. She is also past board member of the Council of Citizens with Low Vision International, volunteer advisor and advocate to parents of blind and visually impaired students; she helps them navigate their way through the school system.
Jolie Mason – is the Program Director and founder of the Los Angeles Radio Reading Service ( a project of Community Partners). LARRS is a Nonprofit radio service broadcasting 24/7 to those who are blind or print-impaired. Jolie has trained extensively in all aspects of public radio broadcasting. Her first experience with radio was through a competitive apprenticeship program at KPFK.
She heard about this opportunity from a public service announcement on Roy of Hollywood's Something's Happening show. From 1992 to 1994 she hosted the the computer technology segment of "We Hours". In 1994 Jolie and her Seeing Eye dog, Yuma, joined "challenge", now Access Unlimited. She has won numerous awards, including Maryland regional winner Johns Hopkins Technology Competition for technology innovation—creating the first Unix-based screen review program for the blind, the KNX Hero award and the Linden Lab Virtual Pioneer Award for Technical Innovation in a Digital World. She served two terms on the WGBH National Consumers Advisory Board assembled to develop the standards for video description One of the things she is most proud of is that she brought audio description to Los Angeles in 1994 with a live description of the Tournament of Roses Rose Parade to present.Totally blind, she is an advocate of using technology and innovation to overcome the handicap imposed by disability.
Joe O'Toole – has been a Board member since 2015. Joe is currently working for a large municipal governmental agency and has been working for them for 25 plus years.